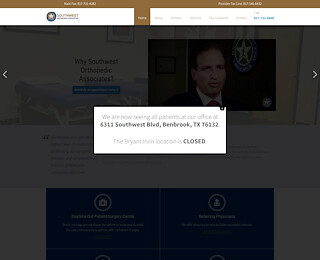 Why Choose Southwest Orthopedic For Stem Cell Therapy in Fort Worth:
If you've been searching for a facility that is committed to providing the latest in innovative treatments, we invite you to consider Southwest Orthopedic. Their staff is able to treat a wide range of disorders to the musculoskeletal system through non-invasive and minimally-invasive treatment protocols, including Stem Cell Therapy (SCT). The fact is that SCT has now been recognized worldwide as the biggest breakthrough in natural healing. We offer the following information as you consider the benefits of Stem Cell Therapy in Fort Worth:
Benefit #1: Stem Cells treat orthopedic injury in a unique manner, and can actually form new tissue that builds muscle, cartilage, tendons, bones, and ligaments. Research has recently demonstrated that stem cells which have been concentrated in a centrifuge contain up to 25 individual growth factors and substances that are able to rebuild the areas where they are injected. This translates to faster healing time and more reliable healing.
Benefit #2: Stem Cell Therapy in Fort Worth's SW Orthopedic Associates facility can manage chronic pain- a huge advantage over other forms of treatment that typically offer little or no benefit. If you've been dealing with a chronic condition that has not responded well to other forms of pain management, you may be considering surgery as the final option in controlling pain. Before you opt for a non-reversible treatment that may or may not deliver a successful outcome, make a call to Southwest Orthopedic Associates at 817-731-9400. You may find that Stem Cell Therapy is exactly what you've been searching for.
Benefit #3: Stem Cell Therapy has long been known as a treatment that has the potential to reverse disease. Due to controversial methods of obtaining stem cells, this type of treatment has not always been looked at favorably by patients. New Stem Cell Therapy at Fort Worth SW Orthopedic uses the patient's own stem cells to treat their condition. Patients with tendon or ligament injury, muscle injury, joint damage, nerve pain or back pain may be candidates for SCT, however not everyone is a candidate. Patients with active cancer or infection, a history of lymphoma, or those taking certain types of blood thinners may discover that SCT is not suitable for them. A consultation with an orthopedic doctor can help you learn more,
SCT is associated with an increased healing potential and is able to help many patients experience increased function with less pain. Since healing time is decreased, patients find there is less down time between activities. For a more thorough understanding of how SCT can improve your condition, we invite you to schedule a consultation with a specialist from Southwest Orthopedic Associates by calling 817-731-9400. Take advantage of the free resources located on the SWOrthopedic.com website, including the FAQ page, where you'll find answers to commonly asked questions, patient information, services offered, directions to the facility and much more.
Stem Cell Therapy Fort Worth
Southwest Orthopedic Associates
8177319400
4441 Bryant Irvin Rd N, Fort Worth, TX 76107
View Larger Map