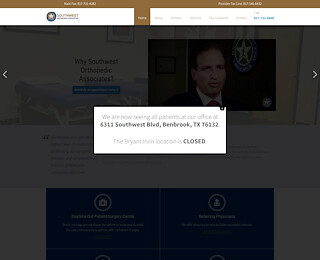 In case musculoskeletal injuries start to be way too intense, they might require medical intervention to reconnect tendons, ligaments, and muscles, along with repair nerve damage, reposition joints, as well as fuse fractured bones back together. Orthopedic surgeons diagnose conditions, produce treatment plans, perform methods, help individuals recover, and keep track of the body for coming injuries to enable them to bring patients comfort and mobility. Millions of Americans have a limited healthcare insurance plan, and millions more don't have any health insurance, whatsoever. Southwest Orthopedic Associates is proud to announce that we are now performing orthopedic surgery for cash, as an option for those individuals who have no other means to pay for their required procedures.
At Southwest Orthopedic Associates, we are known as the leading surgical center that provides the widest range of procedures, therapies and other medical services, and we now perform orthopedic surgery for cash. Our pricing structure for cash payments has been created in order to provide necessary medical procedures at a lower cost for those who have no other options for paying for their surgery. Of course, different procedures come with different costs, and your doctor will be able to advise you on these, after your consultation. Your initial consultation fee is only $250.00, and this cost will be deducted from the total cost of your surgery, if necessary.
If it turns out that you don't require a surgical procedure after all, you initial fee will be retained by your doctor for the cost of your visit. There are some basic fees that won't be included in the cost of your surgery, such as X-rays, an MRI, lab fees, and others. The hardware that may be required for your orthopedic surgery, such as screws, implants and plates are also not included in the cost of your surgery, but they will be provided to you at our cost, meaning that we will not profit from these items. Also, your travel and lodging arrangements are not covered in the total cost of your procedure.
We have a comprehensive list of the procedures that we will provide at a lower cost for those who pay for their surgery upfront, and in full. Such procedures include, but are not necessarily limited, for knee arthroscopy, hip, ankle and shoulder arthroscopy, along with pain management procedures, just to name a few. Before you are scheduled for your surgery, all of these factors will be explained in detail, and you will then be able to ask any questions regarding things that you may not fully understand.
If you would like some additional information regarding the pricing breakdown for our orthopedic surgery for cash, Southwest Orthopedic Associates would like to invite you to visit our web site. At sworthopedic.com, you can learn more about all of the types of procedures that are offered at a lower price when you decide to pay for your procedure with cash. You can also simply call us at 817.731.9400, and speak with one of our friendly and knowledgeable medical staff members.
Orthopedic Surgery For Cash