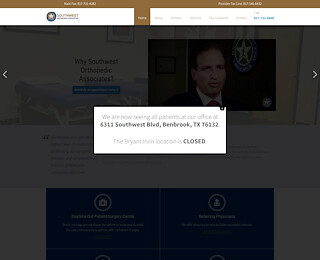 Why Opt For Non Surgical Spine Treatment in Fort Worth:
If you're dealing with back pain, you may be looking at surgery as an option in trying to obtain relief from chronic pain. Before you make a decision that you're unable to reverse, consider all of your options. Southwest Orthopedic Associates offers non surgical treatment as an option to be neck and back pain with or without neurologic symptoms, like weakness, coordination issues, balance, or numbness. Traditional treatment options may not resolve your pain or function issues. That's one of the biggest reasons why more and more patients are turning to non surgical spine treatment in Fort Worth.
Whenever possible, SW Orthopedic employs non surgical options to treat chronic pain, including Acupuncture, Chiropractic Care, Exercise, Medication, Physical Therapy, and Epidural Spinal Injections. In the event that these options prove to be ineffective, the facility is able to employ minimally-invasive lumbar discectomy and a range of other surgical options that can address pain and function. It's essential that you schedule a consultation with an orthopedic doctor to weigh out the pros and cons of each type of treatment you're considering before you make the final decision. To book an appointment at Southwest Orthopedic, please call 817-731-9400. You'll want to become more informed about potential risks, complications, and benefits as you consider your options.
If you wake up to back pain every day, you're not alone; research shows that millions of people deal with chronic back pain they are unable to treat effectively on their own with over the counter medications or alternative treatments. If you're searching for non surgical spine treatment in Fort Worth as a means of addressing your pain, you'll find SW Orthopedic has options to help you achieve your goals.
Non surgical spine treatment affords patients the benefit of little or no down time. Traditional back surgery typically takes months of recovery. If you choose to treat your back pain through a non surgical method, you'll be able to continue working while treating your back pain. You'll also enjoy an improvement in flexibility and your range of motion. It's important that you discuss your goals and options with an orthopedic doctor who can determine the severity of your condition and assess whether non surgical spine treatment in Fort Worth is right for you. It may be possible to treat your muscle or ligament injury, bulging disc, degenerative disc disease, sciatica, or other condition without having to undergo surgery.
Back surgery is not only very costly, it takes a serious toll on the body and requires a lengthy recovery, during which time, you may be unable to work or perform everyday activities. If you'd like to learn more about the benefits of non surgical spine treatment, we invite you to contact Southwest Orthopedic Associates by calling 817-731-9400. You'll find their online resources to be very helpful as well. Stop by the SWOrthopedic.com website to learn about services, treatment options, and more.
Non Surgical Spine Treatment Fort Worth