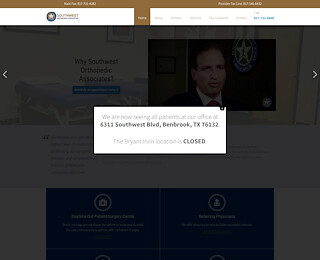 PRP is Platelet Rich Plasma treatment. Even though an emerging technique and technology in sports medicine, it's been utilized since the mid-1990's in oral and dental surgery as well as to assist in soft tissue recovery following cosmetic surgery. Injuries treated with PRP therapy include: rotator cuff, hamstring, quadriceps, Achilles tendon injuries and tennis elbow. Basically any tendon or perhaps ligament injury except total tears might be taken care of successfully with PRP. As an alternative to surgery, PRP treatments may be quite effective for managing chronic pain and can assist those who are suffering from arthritis, tendonitis and even a herniated disc. Southwest Orthopedic Associates can advise you of the Fort Worth PRP cost, and how it may benefit your general health.
The professional medical team at Southwest Orthopedic Associates has several years of combined experience when it comes to PRP therapy, and can also explain why Fort Worth PRP cost is well worth it for many of our valued patients. Being able to move freely about, without the constant and nagging pain that never seems to go away, is a significant relief for those who have been living with pain for many years. PRP treatments work by supplying injured areas with natural proteins, cytokines, stem cells and other bioactive growth factors.
Platelet-rich plasma (PRP) is actually described as "autologous blood with concentrations of platelets above baseline levels, that contains a minimum of seven growth factors." PRP is actually taken from a patient's own body, usually eliminated from bone marrow or also adipose/fat tissue, and then injected into another site, anywhere the affected region may be. Because PRP contains growth factors which heal damaged tissues, it really works by naturally triggering localized inflammation, collagen production along with other regenerative processes. PRP therapy, which takes around 20 minutes to complete, starts with collection of thirty milliliters of the patient's blood.
The blood sample is put into a centrifuge to sort the platelet rich plasma from the various other parts of entire blood. Doctors then inject the focused platelets into the site of the injury usually using ultrasound guidance for accuracy. Platelets function like an all natural reservoir for growth factors which are vital to fix injured tissues. The growth factors that the platelets secrete stimulate tissue recovery by improving collagen production, enhancing tendon stem cell proliferation, and tenocyte related gene and protein expression. These growth factors likewise stimulate blood circulation and cause cartilage to be much more strong and resilient. PRP activates tenocytes to proliferate quickly, and create collagen to fix muscles, cartilage, ligaments, and injured tendons.
If you would like some additional information regarding the Fort Worth PRP cost, Southwest Orthopedic Associates would like to invite you to visit our web site. At sworthopedic.com, you can learn more regarding other benefits that PRP therapy can provide. On our home page, you can schedule your initial consultation, by leaving your contact information. You can also simply call us at 817.731.9400, and speak with one of our professional medical staff members.
Fort Worth PRP Cost